Jazz: 2011-2012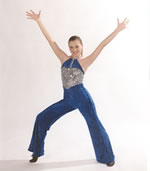 Musical Theater Jazz is a broadway style that concentrates on stage presence to create a character. A great way to spend an afternoon dancing, stretching and getting stronger! Class will include proper technique with emphasis on correct body alignment, musicality & spatial awareness. Students at all levels are encouraged, but not required, to take ballet classes. Ballet strengthens jazz technique assisting the student's progress, allowing them to move through the levels more rapidly.
The following classes are invited to participate in our special end of year performance. A costume purchase and regular attendance are requirements to participate in this performance.
Dance attire & shoes are available for purchase at the dance studio.
Dress Code:
Black leotard, tan tights and black jazz shoes (the no-tie, pull on kind is preferred). Jazz pants may be worn. No jewelry, watches or gum.
Tuition: $650.00

Tap & Jazz - Monday
(4 - 6 years)
3:00 - 3:45 pm
(class time will lenghten to 4:00 pm in spring 2011)
Jazz/Musical Theater I
(5 - 7 year olds) - Wednesday
4:30 - 5:30 pm
Jazz/Musical Theater II
(8 - 11 years) - Thursday
5:00 - 6:00 pm

Jazz/Musical Theater III
(8 years & up) requires teacher recommendation - Wednesday

6:00 - 7:00 pm
Jazz/Musical Theater IV
(12 years & up) requires teacher recommendation - Wednesday
7:00 - 8:00 pm