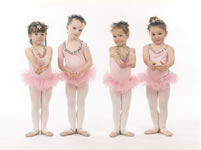 Children will experience the joy of dance and begin building a learning foundation that lasts a lifetime! Classes are taught by patient and nurturing professionals.
Performance Opportunity for Creative Movement, Pre-Ballet, Beginner Ballet (Kindergarten) and Beginner Tap & Jazz Classes: Classes will participate in the Annual Year-End performances. You will receive notice of the performance date and time in the early spring. A costume purchase and regular attendance are requirements for participation in the performance. Participation in the spring performance is guarranteed only when child participates in both terms. Children who enroll only in the spring term will be extended an invitation to perform on a case-by-case basis.
Dancers age 4 years and older wishing to perform in our annual Nutcracker production may do so by signing up on the registration form. Rehearsals for this age group begin mid-October and take place Saturday or Sunday afternoons. There is an additional fee. Performances are held at the Wilton High School on December 18, 2011.
A 16-week, 45-minute dance adventure where young dancers begin a magical journey into the exciting world of dance. While classes focus on developing creativity, kinetics, and rhythmic skills, using a variety of age appropriate activities and props your child will feel like they are transported to exotic and faraway lands. We'll "travel" to ancient Peru, we'll visit inside tropical jungles, explore the deepest oceans, and of course visit lots and lots of castles as we pretend to be beautiful princesses!. Classes are taught by patient and nurturing professionals. We know how much this age group LOVES to play "pretend", so our classes are filled with many imaginative activities and lots of dress up all provided by the studio! Participation in the spring performance is guarranteed only when child participates in both terms. Children who enroll only in the spring term will be extended an invitation to perform on a case-by-case basis.

Creative Movement Terms:
Fall '11: 9/10/11 - 1/21/12 Spring '12: 01/22/12 - 06/10/12

Dance attire & shoes are available for purchase at the dance studio.

Creative Movement Dress Code: All Leotards, tights & shoes should be purchased at the dance studio or a reputable dance supply store. It is important that dance attire fit properly so that the instructors can see the body clearly. This class requires students to wear pink ballet tights, pink ballet shoes and a light blue leotard. Leotards must be VERY PLAIN. All leotards are to be of a non-shiny material and have no attached skirts or adornments, (no crisscross straps, cut outs or extra bows allowed.) They may be long or short sleeves, tank or camisole style, but they must have a clean and simple neck & back line. Hair must be pulled away from face (a pony tail is suggested). No jewelry, watches or gum.

Girls: Light blue leotard, pink tights and pink ballet shoes.

Boys: White T-shirt, black sweat pants, black ballet shoes.

Tuition per term: $350.00

Creative Movement — Monday
3's & 4's



9:30 - 10:15 am
Creative Movement/Pre-Ballet —Thursday
3's & 4's
9:30 - 10:15 am
Creative Movement — Thursday
3's & 4's
2:30 - 3:15 pm
Creative Movement/Pre-Ballet — Friday
3's & 4's
9:30 - 10:15 am
Creative Movement/Pre-Ballet — Saturday
3's & 4's
9:00 - 9:45 am

A joyful 16-week, 45-minute dance class that expands upon the prior Creative Movement experience, although no previous dance lessons are required. Program further develops the child's creativity, introducing technical concepts in an age appropriate and fun fashion. All of this while keeping the classes entertaining and lively! We'll draw upon our powers of imagination and "travel" to many exotic destinations, pretending to be many characters along the way! (Princesses, lots and lots of princesses!) The class culminates with an onstage performance in June. We know how much this age group LOVES to play "pretend", so our classes are filled with many imaginative activities and lots of dress up all provided by the studio! Participation in the spring performance requires enrollment in both terms.

Pre-Ballet Terms:
Fall '11: 9/10/11 - 1/21/12 Spring '12: 01/22/12 - 06/10/12

Dance attire & shoes are available for purchase at the dance studio.

Pre-Ballet Dress Code: All Leotards, tights & shoes should be purchased at the dance studio or a reputable dance supply store. It is important that dance attire fit properly so that the instructors can see the body clearly. This class requires students to wear pink ballet tights, pink ballet shoes and a light blue leotard. Leotards must be VERY PLAIN. All leotards are to be of a non-shiny material and have no attached skirts or adornments, (no crisscross straps, cut outs or extra bows allowed.) They may be long or short sleeves, tank or camisole style, but they must have a clean and simple neck & back line. Hair must be pulled away from face (a pony tail is suggested). No jewelry, watches or gum.

Girls: Light blue leotard, pink tights and pink ballet shoes.

Boys: White T-shirt, black sweat pants, black ballet shoes.

Tuition: $350.00

Pre-Ballet — Monday
4's & 5's
10:15 - 11:00 am
Pre-Ballet — Wednesday
4's & 5's
3:30 - 4:15 pm
Pre-Ballet — Thursday
4's & 5's
10:15 - 11:00 am
Pre-Ballet — Thursday
4's & 5's
12:15 - 1:00 pm
Pre-Ballet — Thursday
4's & 5's
3:15 - 4:00 pm
Pre-Ballet — Friday
4's & 5's
10:15 - 11:00 am
Pre-Ballet — Saturday
4's & 5's
9:45 - 10:30 am

A full year program designed to initiate the young dancer into the complex and beautiful world of classical ballet. Classes are an hour in length and include an introduction to barre exercises, across the floor locomotion skills and beginning center work. Strength, proper body alignment, ballet vocabulary (terminology) and classroom etiquette are emphasized. As this is a transitional year for kindergartners, the program includes many of the fun & creative "let's imagine" activities from previous lessons.

Although this is a yearlong program, late registration may be accepted on a case-by-case basis, please call for information.

Dance attire & shoes are available for purchase at the dance studio.

Ballet Dress Code: All Leotards, tights & shoes should be purchased at the dance studio or a reputable dance supply store. It is important that dance attire fit properly so that the instructors can see the body clearly. This class requires students to wear pink ballet tights, pink ballet shoes and a pink leotard. Leotards must be VERY PLAIN. All leotards are to be of a non-shiny material and have NO attached skirts or adornments, (NO crisscross straps, cut outs or extra bows allowed.) They may be long or short sleeves, tank or camisole style, but they must have a clean and simple neck & back line. Hair must be worn in a ballet bun (properly pinned with all loose ends made neat and tidy or you may "cheat" by using a hair clip with attached hair sack). No jewelry, watches or gum.
Leotard color: Pink

Students that are 6 years of age by September 31st may take a Ballet I class or a Beginner Ballet class. Click here

Tuition: $650.00

Beginner Ballet — Monday
2:00 - 3:00 pm
Beginner Ballet/Ballet I — Tuesday
(Kind. - 2nd grade)
4:30 - 5:30 pm
Beginner Ballet/Ballet I — Saturday
(Kind. - 2nd grade)

10:30 am - 11:30 am

A fun and upbeat 45-minute dance class that will have your child movin' and a groovin' learning the basics of Tap and Jazz styles. Research shows us that movement and coordination directly relate to a child's reading and writing preparedness. So enjoy the added benefit of this dance class in that it helps increase Kindergarten reading & writing readiness skills, but shhh, they'll never know!

Dress Code: Black leotard (if coming from the preceding Ballet class, then they may remain in their pink dance attire), tan tights, black jazz & black tap shoes (must have steel taps - important!). A short black chiffon skirt or black jazz pants are optional. Hair in a ponytail or ballet bun. No jewelry, watches or gum.


Tuition: $650.00

Tap & Jazz — Monday
(4 - 6 years)
3:00 - 3:45 pm
(class time will lenghten in spring to 4:00 pm)