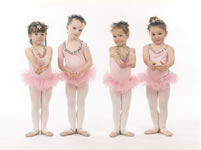 Children will experience the joy of dance and begin building a learning foundation that lasts a lifetime! Classes are taught by patient and nurturing professionals.
Performance Opportunity for Pre-Ballet, Pre-Ballet/Tap Combo and Beginner Ballet (Kindergarten) Classes: Classes will participate in the Annual Year-End performance in June. You will receive an information packet for the performance in the early spring. A costume purchase and regular attendance are requirements for participation in the performance. Participation in the spring performance is guaranteed only when child participates in both terms. However, children who enroll only in the spring term will be extended an invitation to perform on a case-by-case basis.
Dancers age 4 years and older wishing to perform in our annual Nutcracker production may do so by signing up on the registration form. Rehearsals for this age group begin mid-October and take place Saturday or Sunday afternoons. There is an additional fee. Performances are held at the Wilton High School in early December.
A joyful dance class for both girls and boys. The program nurtures the child's developing creativity and desire to explore. Classroom etiquette and technical concepts are introduced in an age appropriate and fun fashion. These classes are fun, entertaining and lively!

Pre-School class Terms:

Fall 2017: 9/09/17 - 1/20/18 Spring 2018: 01/21/18 - 06/02/18

Dance attire & shoes are available for purchase at the dance studio.
Open House - Auguste 31st - September 2nd, call for hours 203-544-9007.

Pre-School Classes Dress Code:

Girls: Pink tights, pink ballet shoes & any color leotard or dance dress. Skirts are allowed. No jewelry, watches or gum.

Boys: T-shirt, black sweat pants, white socks, black ballet shoes.

Classes that include Tap: Black tap shoes (must have steel taps - important! Please note that Payless tap shoes do not meet this requirement). If you already own tan shoes, that's OK, just purchase a black pair by the end of the year so everyone matches at the performance. Any color leotard or dance dress. Skirts are allowed. Boys attire: black oxford style tap shoes.

Tuition per Term: $425.00
Tuition per Year: $775.00
Pre-Ballet/Pre-Tap - Monday
4's & 5's
1:45 - 2:45 pm
Pre-Ballet - Tuesday
2.5 - 4 years
3:45 - 4:30 pm
Pre-Ballet - Tuesday
3 - 5 years
4:00 - 4:45 pm
Pre-Ballet/Pre-Tap - Wednesday
4's & 5's
3:45 - 4:30 pm
Pre-Ballet - Saturday
2.5 - 3.5 years
9:00 - 9:45 am
Pre-Ballet/Pre-Tap - Saturday
3.5 - 5 years
9:45 - 10:30 am

A full year program designed to initiate the young dancer into the exciting and beautiful world of classical ballet. Classes are an hour in length and include an introduction to barre exercises, across the floor locomotion skills and beginning center work. Strength, proper body alignment, ballet vocabulary (terminology) and classroom etiquette are emphasized, while still nurturing the creative spirit.

While this is a yearlong program, late registration may be accepted on a case-by-case basis, please call for information.

Dance attire & shoes are available for purchase at the dance studio. Open House - September 1st - 3rd, call for hours 203-544-9007.

Ballet Dress Code:

Girls: Pink ballet tights & pink (properly fitting) ballet shoes. Pink leotard or dance dress. Simple dance skirts are allowed. Hair must be worn in a ballet bun pinned with all loose ends made neat and tidy or secured in ballet snood. No jewelry, watches or gum, or baggy cover-ups. In cooler weather a dance sweater may be worn.

Boys: T-shirt, black sweat pants, white socks, black ballet shoes.

Dress Code for Ballet & Tap/Jazz Combo class: Black leotard or dance dress, pink tights for class & tan tights for performance, Tan tap shoes (must have steel taps - important!) Bloch SO302 are recommended, tan jazz shoes & pink ballet slippers. Hair in bun, jewelry, watches or gum.

Tuition: $775.00 for one hour class: $995.00 for 90 minute class

Beginner Ballet - Monday
(Kind. - 1st grade)
4:00 - 4:45 pm
Beginner Ballet - Tuesday
(Kind. - 1st grade)
4:45 - 5:45 pm
Beginner Ballet - Saturday
(5 & 6 yrs.)
10:30 am - 11:30 am